My Blog
Posts for tag: oral health
By Ralph H Weiner, DDS
December 22, 2015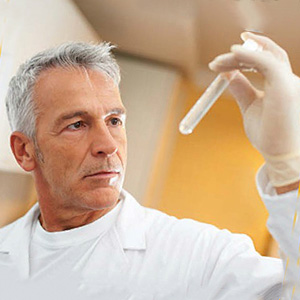 While oral hygiene, a nutritious diet and regular dental visits are all crucial to long-term oral health, these efforts complement what your body already does to keep your mouth healthy. One of the major players in this function is saliva.
Produced by hundreds of glands located throughout the mouth, saliva does much more than help you swallow and wash away food. As you chew, an enzyme in saliva known as amylase breaks down starches in your food to make it easier to digest in the stomach. Saliva also contains antibodies, similar to what's in tears, which can fight bacteria and other disease-causing organisms.
Perhaps its most important function, though, is its ability to protect and maintain healthy tooth enamel. The strongest substance in the body, enamel nevertheless has one primary enemy — the acid found in certain foods or as a byproduct of bacteria feeding on sugar and other carbohydrates.
When the ideally neutral pH level of the mouth becomes too acidic (nearly every time you eat), minerals in the enamel begin to soften and dissolve. The increased saliva flow when we eat floods the mouth with buffering agents that neutralize the acid and restore the mouth's normal pH level. Not only does saliva stop demineralization, but it also restores a good bit of the enamel's mineral content.
In recent years, a new role for saliva has begun to emerge as a means to diagnose disease. Like blood, urine and other bodily fluids, saliva contains molecules that serve as biological markers for disease. Given the right equipment, saliva has the potential to indicate early signs of cancer (including oral), diabetes and other systemic conditions. As the means to examine saliva for these markers increases it promises to be easier and less expensive to collect and sample than blood, while reducing the chances of transmitting bloodborne diseases to healthcare workers.
It's a lot to consider with this fluid that you hardly notice, except when it isn't there. Saliva is proof that our efforts at keeping our mouths healthy cooperate and depend on our bodies' amazing systems.
If you would like more information on saliva and other ways your body maintains a healthy mouth, please contact us or schedule an appointment for a consultation. You can also learn more about this topic by reading the Dear Doctor magazine article "Saliva."
By Ralph H Weiner, DDS
August 08, 2015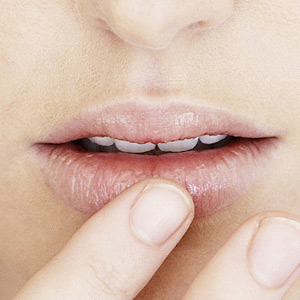 If you've noticed redness or small skin cracks at the corners of your mouth, you may have a common infection known as perleche or angular cheilitis. Depending on its cause, there are ways to treat the redness and skin cracking to lessen your discomfort.
The term perleche comes from the French word "lecher," meaning to lick. This is derived from the tendency of perleche patients to constantly lick the area to ease irritation; unfortunately, this also helps perpetuate the inflammation. Once the skin is broken the area is commonly infected by yeast called candida albicans.
Initially, perleche may arise from a variety of sources, most of them locally from either inside or around the mouth, although it can be triggered by a general body infection or disease like diabetes or cancer, or vitamin or iron deficiencies. Inside the mouth reduced saliva flow, tissue inflammation under a rarely cleaned denture (denture stomatitis), pressure on the mouth corners caused by a collapsed bite due to missing teeth and similar conditions can elevate the risks for infection. Around the mouth wrinkling or "marionette lines," deep lines that extend from the mouth to the chin due to aging or environmental exposure, can contribute to crack formation. Drooling during sleep or as a result of orthodontic treatment is also a contributing cause.
The main focus of treatment for perleche is to bring any infection under control. This can be accomplished with a course of oral or topical antifungal (yeast-attacking) medication. If the infection has spread into the mouth or throat we might then prescribe a troche, a small lozenge designed to dissolve, which you would rinse with and then swallow to affect other portions of the mouth. Steroid or zinc oxide ointments applied directly to the skin can control inflammation and serve as a barrier agent with antifungal properties to promote healing.
If the cause is more related to dental problems (ill-fitting dentures or missing teeth), then it's important to have these addressed and treated. You may also consult a dermatologist for treatments to lessen wrinkling around the mouth that might also contribute to chronic cases of perleche.
If you would like more information on cracked mouth corners, please contact us or schedule an appointment for a consultation. You can also learn more about this topic by reading the Dear Doctor magazine article "Cracked Corners of the Mouth."
By Ralph H Weiner, DDS
May 17, 2015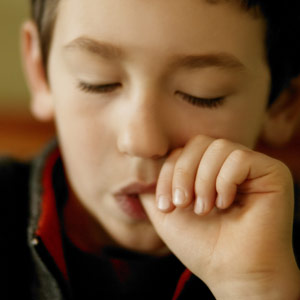 As a parent you're concerned with a number of issues involving your child's health, not the least of which involves their teeth. One of the most common is thumb-sucking.
While later thumb-sucking is a cause for concern, it's quite normal and not viewed as harmful in infant's and very young children. This universal habit is rooted in an infant swallowing pattern: all babies tend to push the tongue forward against the back of the teeth when they swallow, which allows them to form a seal while breast or bottle feeding. Infants and young children take comfort or experience a sense of security from sucking their thumb, which simulates infant feeding.
Soon after their primary teeth begin to erupt, the swallowing pattern changes and they begin to rest the tongue on the roof of the mouth just behind the front teeth when swallowing. For most children thumb sucking begins to fade as their swallowing pattern changes.
Some children, though, continue the habit longer even as their permanent teeth are beginning to come in. As they suck their thumb the tongue constantly rests between the front teeth, which over time may interfere with how they develop. This can cause an "open bite" in which the upper and lower teeth don't meet properly, a problem that usually requires orthodontic treatment to correct it.
For this reason, dentists typically recommend encouraging children to stop thumb-sucking by age 3 (18-24 months to stop using a pacifier). The best approach is positive reinforcement — giving appropriate rewards over time for appropriate behavior: for example, praising them as a "big" boy or girl when they have gone a certain length of time without sucking their thumb or a pacifier. You should also use training or "Sippy" cups to help them transition from a bottle to a regular cup, which will further diminish the infant swallowing pattern and need for thumb-sucking.
Habits like thumb-sucking in young children should be kept in perspective: the habit really isn't a problem unless it goes on too long. Gentle persuasion, along with other techniques we can help you with, is the best way to help your child eventually stop.
If you would like more information on thumb sucking, please contact us or schedule an appointment for a consultation. You can also learn more about this topic by reading the Dear Doctor magazine articles "Thumb Sucking in Children" and "How Thumb Sucking Affects the Bite."